JKI is proud to announce the release of VIPM 2012. Click here to download it. VIPM 2012 brings great new features for LabVIEW teams and add-on creators, and also comes at a lower price of $499.
We've been talking to customers over the past year to find ways to improve VIPM. Through one-on-one interviews and on public forums such as the VIPM Idea Exchange, we've learned a lot about how people use VIPM and more importantly how people want to use VIPM. You'll find many of these user-suggested improvements in VIPM 2012.
Here are a few of the major changes in VIPM 2012. You can also learn more at the JKI website, or go straight to the download page and get started today.
New Low Price, Easy Trial Activation
VIPM 2012 Pro is now $499, and if you've ever bought a previous version of VIPM Pro or Enterprise upgrades are just $199. We've also made it easy to evaluate VIPM Pro for 30 days: just activate VIPM with the special trial code VIPM-PRO-EVAL-WEB.
Unleashing VI Package Repositories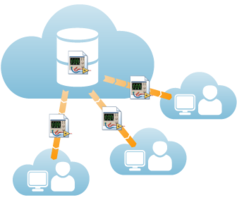 With VIPM 2012, VIPM Pro users can create as many VI Package Repositories as they want. This means that if you're building LabVIEW add-ons or reusable libraries for your coworkers, customers, or the community, you can create one or more central VI Package Repositories to easily distribute your add-ons. Other features:
VIPM 2012 Pro can connect to any number of repositories. Repository client limits are a thing of the past.
VI Package Repositories can be hosted in public Dropbox folders. You no longer have to run your own web server or ftp site to host a repository (although you still can if you want).
VIPM 2012 Pro users can now manage multiple shared repositories. Previously, VIPM could only a manage a single repository.
VIPM 2012 Pro can create private repositories for package sharing within your organization or with your customers.
Every VI Package Repository has a unique RSS feed so repository users can subscribe to receive package release notifications in their favorite RSS reader.
Automate Tasks With VIPM's New VI-based API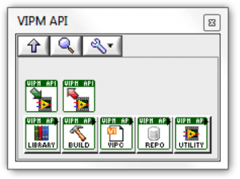 Do you want to automate installation of packages or perform maintenance tasks on your reuse library easily? Now you can, with VIPM 2012 Pro's new public API. Learn more here.
Here are some examples of automations you can create:
Automated package builds: Create a one-click build for your LabVIEW add-on. Write LabVIEW code to automatically apply a VIPC file, build your package, install the built package & test it, then publish the package to your repository, all automatically.
Unattended system updates: Script your development systems to automatically find and install add-on updates.
Group package publishing: Create a "package release dropbox" for members of your team to put built packages into; automatically publish packages from that folder to your repository.
New development system setup: Create a "system setup" script to automatically install "core" packages on multiple LabVIEW versions with a single command.
System inventory and maintenance: Validate system installations, perform cleanup and maintenance on deployed systems.
VI Package Configuration (VIPC) Improvements
Our users tell us that once they start using VI Package Configuration files they can't stop. They've also given us some great ideas to improve how VIPC files work. We've listened, and VIPM 2012 Pro adds the following enhancements:
Apply VIPC to any LabVIEW Version: VIPM 2012 allows you to apply a VIPC in any version of LabVIEW.
LabVIEW Project (.lvproj) Dependency Scanning Support: VIPM 2012 Pro supports LabVIEW project files as a source for finding project VI package dependencies. Use this feature to create a VIPC file containing exactly the right libraries and add-ons for each project you work on.
Other Stuff
Did we mention that new, low price for VIPM Pro? It's only $499, and upgrades are only $199.
Lots of bug fixes.
If you bought VIPM Pro or Enterprise in the last year, your upgrade is free, just like before.