Today, National Instruments announced the release of LabVIEW 2012. Like every year, it includes a host of advancements and great new features.
One of the coolest of these features is the inclusion of VIPM 2012 with every LabVIEW installation. That's right – VIPM 2012 Free now ships with LabVIEW. This means that if you have LabVIEW 2012 installed on your computer, you already have the VIPM installer on your machine.
To launch VIPM 2012, just click on Find Drivers and Add-ons >> Find LabVIEW Add-ons in the newly redesigned LabVIEW Getting Started window.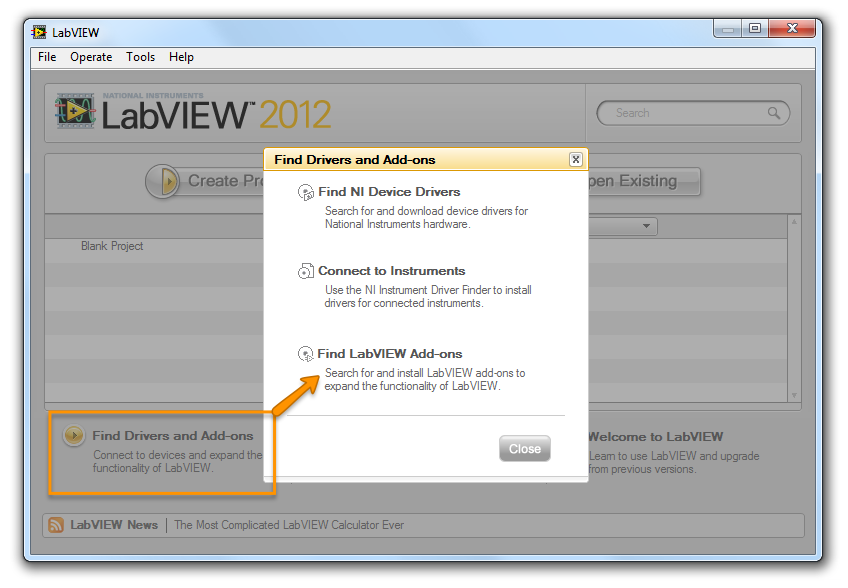 If this is your first time launching VIPM 2012, you will be asked to proceed with the installation. If you have an older version of VIPM installed, VIPM will walk you through the upgrade process.
VIPM 2012's inclusion with LabVIEW 2012 has multiple benefits for LabVIEW Add-on creators and users:
VIPM can be installed easier in environments that have strict IT controls on installed software. Since LabVIEW has already been approved for use, the included support applications, which now include VIPM, are more acceptable for installation.
If you distribute VIP packages for toolkits or libraries, the end user experience is more streamlined. When you double-click a package, you will be prompted to install VIPM and then when the installation is complete, the package is opened and installed. Since an installer download is not required, the process is easier and quicker.
It's easier to install packages on LabVIEW systems that are not internet enabled, since you don't need web access to install VIPM. The packages themselves of course still need to be transferred to the machine. VI Package Configuration files can be used for this purpose.
This tighter integration between LabVIEW and VIPM will allow easier distribution of LabVIEW Add-ons and reusable libraries, for your development team and your Add-on customers.
Sign Up For Our New VIPM Webinar!
Sign-up for the upcoming VIPM 2012 webinar to find out what's new in VIPM 2012 and learn more about the following:
How to use VIPC files to keep our project up to date.
Using VIPM with Dropbox to cloud enable your development team.
Using the new VIPM API to implement a check for updates tool for remote test systems.