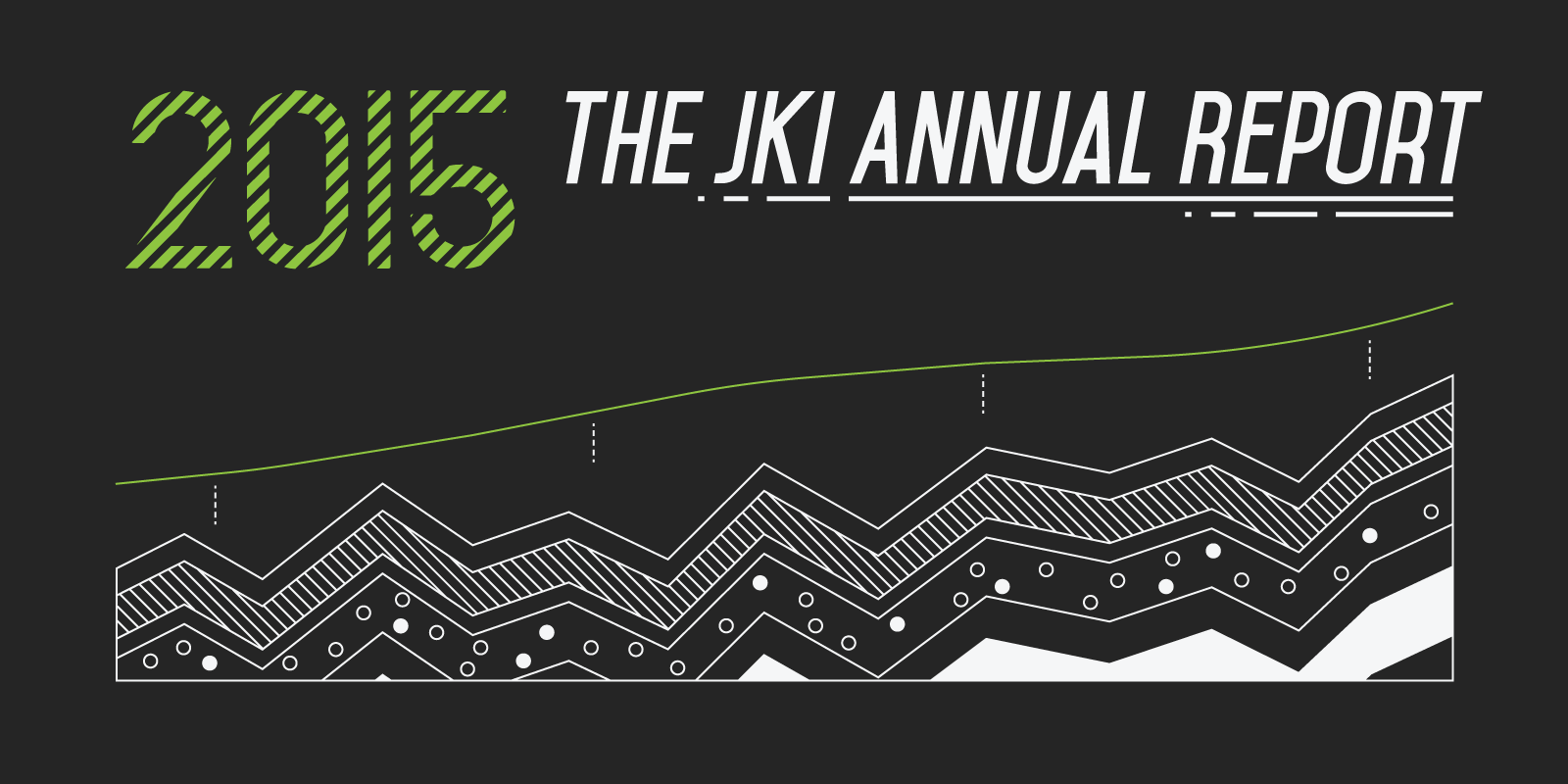 It's been an eventful 2015 here at JKI!
Scroll down for a list of our
exciting results and fun facts for 2015...
1... Video Produced!
This year, we made a video where Jim Kring explains how JKI uses LabVIEW to help our customers get their innovative high-tech products to market with speed and impact. Watch the video and let us know what you think!
2... New JKI Engineers Hired!
Welcome to the team, Danielle and Ian! We're excited to have you on-board (and up our number of physics grads, too)!
2... NI Engineering Impact Awards
We are proud to have won both the Energy Category and Community Choice awards. Read our award-winning paper, "Controlling Zinc-Flow Batteries and Switch-Mode Power Regulation for Megawatt-Scale Energy Storage."
2... Most Used Terms to Describe JKI
"Competent" and "Professional" -- These were the two words most used to describe JKI's team, in a recent customer survey. We're very proud of this and happy our customers can count on us to get the job done.
3... Webinars and Trainings
At JKI, we love to teach others how to do what we do. This past year we held webinars on Getting Started with the Actor Framework, JKI State Machine for LabVIEW FPGA, and even held a day-long JKI State Machine training course at our offices. We'll be hosting more webinars and trainings in 2016 so stay tuned!
4... JKI Tools Open Sourced this Year
At JKI, we also love to share our code. This year, we're proud to have released Caraya, JKI State Machine, JKI State Machine Objects, and EasyXML as open source projects. We're planning on spending time in 2016 opening up even more of our great tools.
4... JKI State Machine Best Practices blogged
We posted four of the top JKI State Machine Best Practices on our blog. What are your best practices?
4... Physics Majors at JKI
"There are only two ways to live your life. One is as though nothing is a miracle. The other is as though everything is a miracle."
― Albert Einstein
4... UC Berkeley Grads at JKI
JKI is located just a few miles east of UC Berkeley and we're just a short BART ride away. It's no wonder Cal grads love JKI (and vice versa). Go Bears!
7... LabVIEW User Group, CLA Summit, and NIWeek Presentations
At JKI, we love giving presentations -- we even ask JKI career candidates (who want to join our team give) give us a presentation during the interview process!
7... Languages Spoken at JKI
We have an international team who speak English, German, Spanish, Finnish, Swedish, and French! Does LabVIEW count as a language? We think it does :-) Plus, we like to say "Voulez-vous LabVIEW?"
24... Blog Articles
This year, we posted 24 blog articles. We love sharing what we're working on and useful techniques that help LabVIEW developers and engineers build high-quality systems faster.
53... Photos Posted on Instagram
This year, we started posting photos and images to instagram to give a window into our work-life at JKI. You can follow us @jkisoftware.
104... Combined Years of LabVIEW Experience!
We love LabVIEW and use it to help scientists and engineers to rapidly prototype and deploy their innovative systems. And, we've got a lot of experience!
753... Pots of Coffee Brewed
We have several coffee connoisseurs in the office and its one of the passions that fuels our work. If you ever come visit us, expect to be offered a fresh-ground cup of coffee brewed just for you!
1255... Trader Joes Lunch Runs
It's a short 4 minute walk to TJ's from our office and many of us stroll there and back, daily, to pick up sandwiches, wraps, and salads for lunch. "Anyone want something from TJs?"
12,551... People Opened our Holiday Card
We have a lot of fun creating our holiday card and this year over 12k people opened and read it! This was a really big debut for the JKI robot mascot -- he was so excited, he came back to announce our 2015 report :-)
231,081... New VIPM Installations
We're excited that VIPM was installed onto 231,081 new computers this year. Wow!!!
448,300... Packages Downloaded from the JKI Package Network
We tracked almost half a million package downloads from the JKI Package Network using VIPM and we're really proud of how VIPM is used to find and reuse LabVIEW code around the world.
0... Number of Times Jim Auditioned for "America's got Talent"
There's a rumor going around that Jim auditioned for America's got Talent -- actually, we took this fun photo at the San Jose Convention Center during the NIDays 2015 San Jose event.
Until next year!

We hope you had a great year, too, and enjoyed this fun look back at JKI's 2015 accomplishments/happenings and cool company facts. We're looking forward to sharing an exciting year with you in 2016 on our mission to make a difference in the world, using LabVIEW to help scientists and engineers turn their ideas and visions into reality.
- The JKI Team