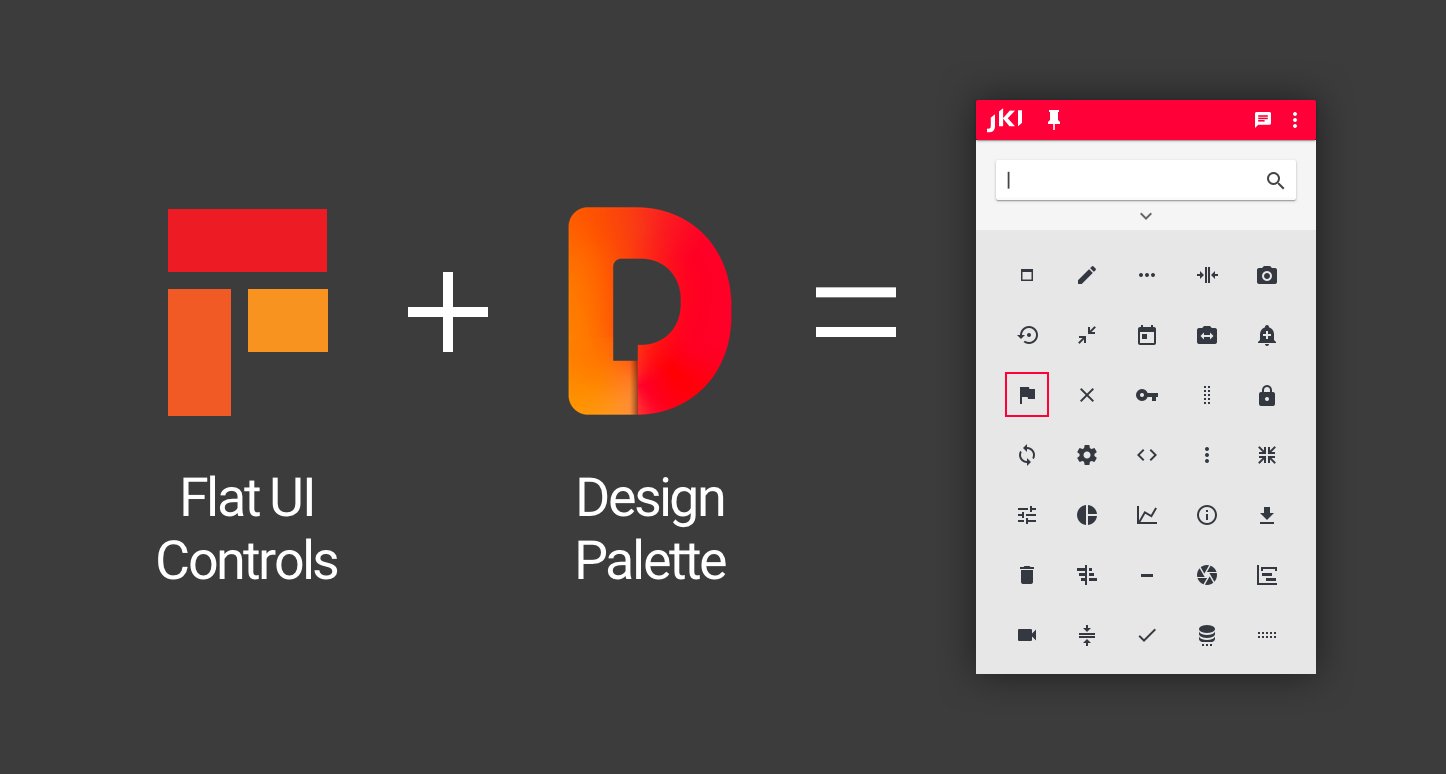 Build better user interfaces by design™
This is a very special JKI product release, since it's actually the release of two great tools for LabVIEW, combined into one amazing user experience! It's the release of the JKI Flat UI Controls 2.0 along with the new JKI Design Palette, a visual controls palette for LabVIEW and much, much more. Keep reading, and we'll explain what's included in this release, and some of our thinking behind the design...
Introducing the JKI Flat UI Controls 2.0 Toolkit
At JKI, we have found that a professional user interface design can make a huge difference for LabVIEW applications. The freely available JKI Flat UI Controls Toolkit for LabVIEW provides a beautiful, professionally-designed set of LabVIEW controls that you can use on your own LabVIEW projects. Our goal in providing this tool is to help every LabVIEW developer, including you, build better user interfaces in LabVIEW, by design!

What's great about 2.0
Since the original JKI Flat UI Controls was released, we have received a lot of feedback and have made many improvements, including:
More Custom Controls - Now features over 200 customized controls to fill the most important use cases when making a modern user interface
New "Material Design" style from Google - The Flat UI 2.0 theme has been designed using the Material Design style for a more consistent experience
Massive Improvements to Buttons (Boolean Controls)

Native LabVIEW Decorations - Buttons now use native LabVIEW decorations for the background fill color rather than images so they can be recolored programmatically. Using LabVIEW decorations also makes them resizable (Note that we're still working on ways to make the icon/shadow resizable).
Hover States - These buttons are also now 6-state booleans which means hover state is now supported (and you should use it!)

New JKI Design Palette - It is now much easier to search and add controls to your VIs by using the JKI Design Palette (more on this below)
What is the JKI Design Palette?
The JKI Design Palette provides LabVIEW users with a fast and easy way to build better user interfaces. It does this by providing a visual palette for finding front-end controls and indicators that look just like they do on the VI Front Panel -- what you see is what you get! Perhaps best of all, it gives you access to all of the JKI Flat UI Controls 2.0, our latest and greatest professionally designed LabVIEW control theme.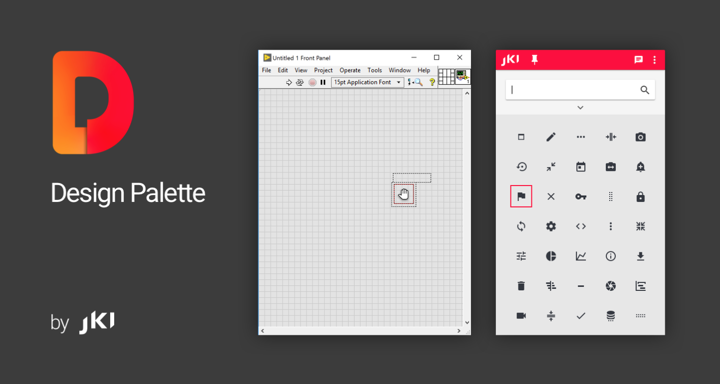 Why we built it
The JKI Design Palette was created by the JKI team, because we wanted to solve one of LabVIEW's biggest limitations: Creating modern user interfaces with ease. The JKI Flat UI Controls 2.0 toolkit was created to allow users to build modern UIs in LabVIEW, but it still didn't feel easy enough to implement those controls in LabVIEW. Viewing and using them in the built in LabVIEW controls palette just doesn't do these controls justice -- they wanted to see the actual controls and indicators while they were searching for them, in their respective sizes, and how they are interacted with. Hence, the JKI Design Palette, a visual controls palette (and much more), was born.
What the Design Palette can do for you
Since its conception, the JKI Design Palette has quickly evolved into a powerful tool that allows LabVIEW users to build better user interfaces in LabVIEW by design™.
Here's the shortlist of some of the amazing features we've already added:
Quickly search and filter controls to find what you need fast
Drag and drop functionality straight from the palette
Plenty of hotkeys for mouseless operation for the super speedy developers (think quickdrop-like workflow)
Resizable to fit everyone's monitor resolution
Pin/Unpin the Design Palette so it doesn't take up valuable screen space when you aren't using it
Software notifies you when there are updates available so you always have the latest and greatest
Integrated feedback form so you can easily let us know what you think, bugs, or tell us what you'd love to see in the future
Support for LabVIEW 2015-2019 32-bit for Windows
Ability to add your own themes and controls
Easter Eggs like Custom Colors and Interactive Mode
For the full up to date list of features and tips on how to get the most out of the JKI Design Palette, check out the User Guide. There are always more ideas in the works so stay tuned for more fun features soon!
Join the Discussion
We always love to hear from the LabVIEW community. We have added a few boards to our JKI Forum to talk about Professional User Interface Design in LabVIEW, the JKI Design Palette and the JKI Flat UI Controls 2.0. Please let us know what you think or if you have great ideas to make the tool better!