In the latest issue of NI News, National Instruments reveals the LabVIEW Tools Network's "Top 5 Most Downloaded LabVIEW Apps in 2010", and they've all got something in common. They're all VI Packages, built with JKI's VI Package Manager! VI Packages are VIPM's special file format for LabVIEW add-ons. They allow you to install LabVIEW add-ons in just a couple clicks, and manage them safely and easily.
Read the full issue here, or click the image below.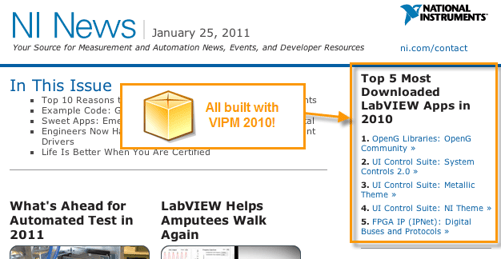 If you're not already using VIPM to install LabVIEW add-ons from LabVIEW Tools Network, what are you waiting for? Install the free VIPM Community Edition and get started!