CORRECTION: The next BALUG meeting is on Tuesday, February 7th, 2012. Previous versions of this post incorrectly said Wednesday.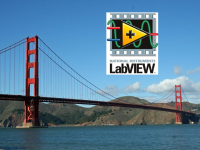 If you're in the Bay Area, don't miss next Wednesday's Bay Area LabVIEW User Group meeting!
The Time: Tuesday, February 7th, 2012 5:45 p.m. - 8:30 p.m.
The Place: The Lookout at 605 Macara, Sunnyvale, CA 94085
To Register: Sign up here.
JKI Project Engineer Joe Lee will give a talk called, "Closing the Loop: Generating LabVIEW Data Structures from XML." He will be discussing how (and why) to use XML with LabVIEW for web application interfacing, configuration management, and flexible data storage. You will learn how to take XML data and start manipulating it right away using EasyXML, and if there's time Joe will show off a new, unreleased EasyXML feature that analyzes XML code and generates the corresponding LabVIEW cluster automatically.
Joe will be joined at this meeting by NI Field Engineer Logan Herr, and Dmitry Sagatelyan from Arktur Technologies, who will each be sharing presentations on LabVIEW Design Patterns.
So come for the LabVIEW and stay for the food, drinks, and community! We hope to see you there.